Things that Testers often ignore to do while Testing Mobile Apps
According to recent statistics, mobile users have a mind-boggling range of apps to choose from. In other words, the audience is spoilt for choices and would not care to wait to score through the apps that are non-responsive and do not meet their expectations.
Mobile application testing saw a year on year growth of 76% in 2014. According to a Nielson study, an average smartphone user installs 42 apps on their device and 87% claim to use nearly 10 of them on daily basis.
It is, therefore, important for testers to ensure that they overcome the pitfalls that are common in mobile applications.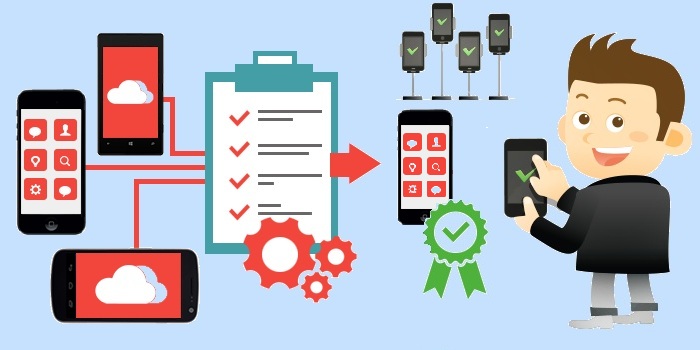 Failure to Think Like a Customer
Testers and developers often fail to think like customers. Ensure that you believe in what you do and know how the customers would react to an app. Often, usability testing focusses on-screen navigation and general ease-of-use, but due importance is not given to factors like which functionalities should be used the most and are these suitably located? Is the app intuitive and do different functionalities seamlessly integrate with each other?
Unplanned Testing
Performing tests without planning ahead in time could prove to be a huge problem at the end of the testing. If the factors that need to be tested are not clear, testing could prove to be chaotic with unplanned activities in between of your schedule. Planning ahead ensures that you have realistic timelines without any delay.
Aversion to Test Automation
Most often testers are aversive to test automation, which is very useful for repetitive testing or testing lengthy or complex test cases. Many companies shy away from test automation because they consider it to be expensive. However, little do they know that a well-executed automation strategy can generate high returns in a short period of time.
Failing to use Metrics for Continuous Improvement
Metrics are a great way of pointing out areas that are working well and those that need some work. It is important to collect data real-time as to how they are performing in real scenarios. Some of the popular metrics that are being used include average session time, client/server computing time, and customer retention rates. These help in giving insights into making the app more successful in the market.
Lack of Attention on Non-functional Testing
Often, testers are so busy paying attention to the functionality of an app alone that they ignore the non-functional aspects like load, performance and stress testing, apart from security testing. Moreover, these tests are done at the end of the test, which makes it even more complex. Without adequate non-functional testing, the app can have a hard time surviving in the real world.
Testing on Actual Devices Ignored
While emulators are popular among testers, the latter often ignore the fact that the apps may test differently on real devices. While emulators are useful in identifying issues early in the development, testing in later stages should be done on actual devices. This gives a tester a feel of real user interactions, like battery consumption, overall performance, and response to service interruptions.
Jailbreaking
Also known as Rooting, this process should be strictly avoided as the test results in such situations cannot be considered to be accurate. Moreover, these devices are prone to performance issues, which can lead to the reporting of false issues.
Best mobile app testing tools for Android and iOS
Calabash
TestComplete Mobile
WebLoad
SeeTest Continuous Testing Platform
Testdroid
Kobiton
Appium Studio
Appium
MonkeyTalk
Robotium
Selendroid
Qualitest group is the world's #1 pure-play testing company that offers a wide range of mobile app testing services, catering to Android and iOS of various configurations.